Saudi Arabia Representative Office
Add: No 18 Floor, Grand Tower, King Fahad Road, Riyadh
P.O.Box: 53337
Email: saudibranch@sinohydro.com; saudi@powerchina-intl.com
The Saudi Arabia Representative Office is responsible for the management of the marketing and performance supervision in Saudi Arabia. POWERCHINA has 4 brands operating in Saudi Arabia, which are POWERCHINA, SINOHYDRO, SEPCO, and SEPCO III.
Up to now, POWERCHINA has signed 35 projects in Saudi Arabia, with a total contract value of about USD 18.33 billion. Its business fields are mainly power engineering, seawater desalination, oil and gas supporting facilities, housing construction, maritime engineering, and infrastructure. Among these projects, 16 projects have been completed with a total contract value of about USD 7.72 billion, and 19 projects are under construction with a total contract value of about USD 10.61 billion.
1. Thermal Power Projects
(1) Rabigh Oil-fired Thermal Power Plant
Installed capacity: 1,320 MW
Description: It's the first IPP project in international competitive bidding of the government utility, Saudi Electricity Company (SEC), and the first power project executed by a Chinese EPC contractor in Saudi Arabia. The power generated from the project is sold to Saudi Electricity under a power purchase agreement for 20 years. Rabigh IPP Power Plant (Rabigh IPP Power Plant Unit I ) is equipped with Dongfang Electric steam turbines. The phase consists of 1 steam turbine with a 602 MW nameplate capacity. Rabigh IPP Power Plant (Rabigh IPP Power Plant Unit II) is equipped with a Dongfang Electric steam turbine. The phase consists of 1 steam turbine with a 602 MW nameplate capacity.
(2) RAS AL KHAIR Combined Cycle Power Plant
Installed Capacity: 2,400 MW
Description: The RAS AL KHAIR Combined Cycle Power Plant, locates in Dammam of Saudi Arabia. The project is currently active. It has been developed in a single phase and got commissioned in 2014. The project comprises a combined cycle co-generation power plant with a combined cycle gas turbine (CCGT), running on dual-fuel. The primary fuel being used to power is natural gas. In case of a shortage of natural gas, the plant can also run on fuel oil.
(3) Jazan 3,850 MW Integrated Gasification Combined Cycle (IGCC) Power Block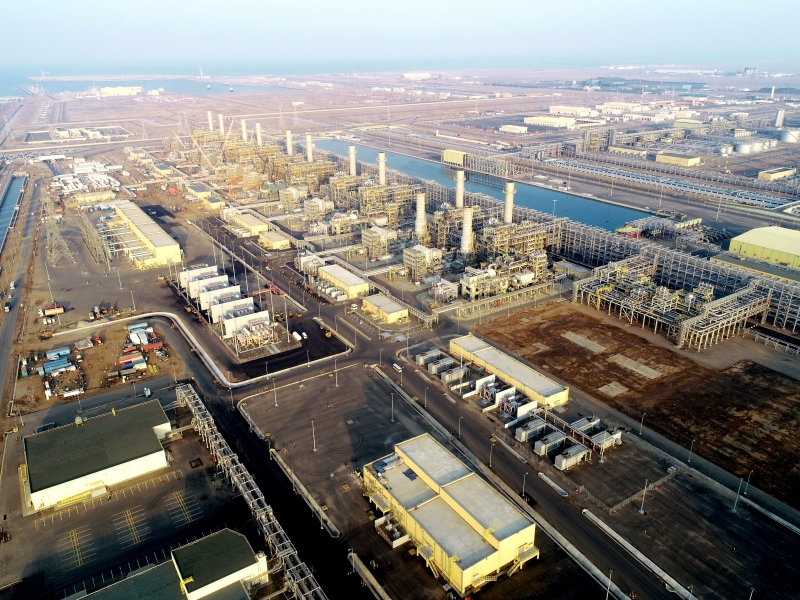 Client: Saudi Aramco
Installed capacity: 3,850 MW
Description: The Jazan IGCC Complex comprises a gasification facility, a power generating facility that consists of five combined-cycle units of 770 MW installed capacity each, an air separation unit (ASU), along with associated facilities.
The vacuum residue feedstock will be supplied from the Jazan refinery for gasification at the IGCC Complex. The gasification unit will be supplied with oxygen generated by the air separation unit to produce hydrogen and syngas.
The air separation unit is estimated to supply approximately 75,000 tons of oxygen and nitrogen per day to the Jazan IGCC Power Station and the refinery.
2. Maritime Projects
(1) King Salman International Complex for Maritime Industries and Services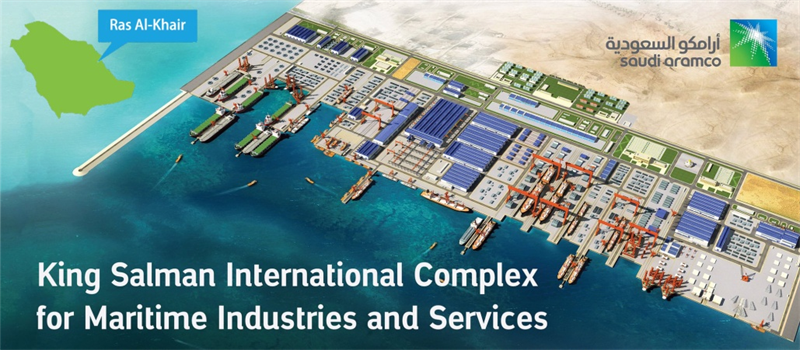 Project description: It is a world-class facility that provides a combination of offshore fabrication, new shipbuilding, Maintenance, Repair and Overhaul (MRO) services including Very Large Crude Carriers (VLCC) capabilities, and offshore fabrication. The approximate area of the overall site is 4,500 m by 2,500 m.
3. Water Resources & Desalination projects
(1) Rabigh 3 Desalination Project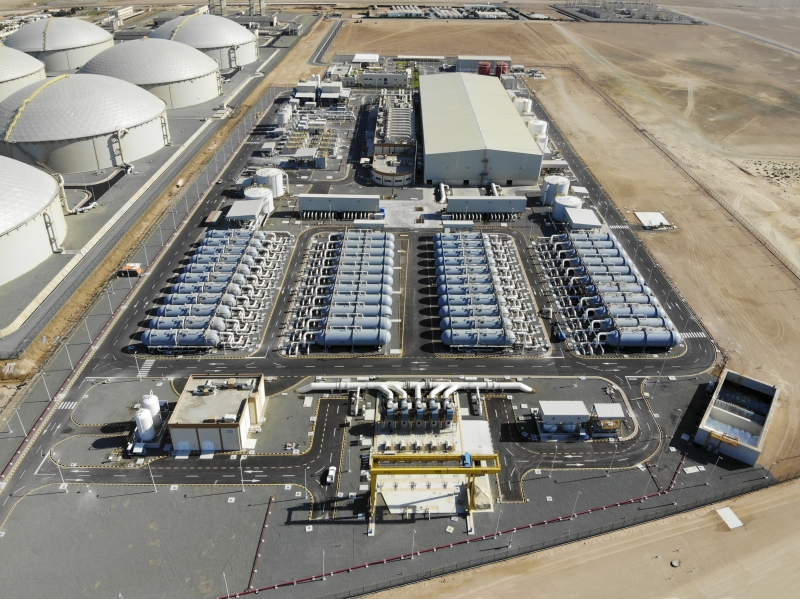 Capacity: 600,000 cubic meters a day
Project description: Rabigh 3 IWP will utilize reverse osmosis (RO) technology to yield a capacity of 600,000 cubic meters a day. Rabigh 3 IWP is the first desalination plant of its size in the private sector with a 100% Saudi workforce. The project has been recognized as the "world's largest reverse osmosis desalination facility" by the Guinness World Records. Rabigh 3 meets the clean water needs of one million housing units in Makkah and Jeddah in Saudi Arabia and ensures a sustainable and reliable supply of water for residents of the two growing cities and their neighboring villages. This will ensure the water security of many residents, along with pilgrims that this region welcomes during the holy month of Ramadan and the Hajj season.
4. Oil&Gas
(1) Master Gas System Expansion Phase I
Client: Saudi Aramco
Description: Two large compression stations, located in the East-West Pipeline Corridor, with BGCS#3 & BGCS#5.
The Master Gas System is operated by Aramco and is one of the world's largest hydrocarbon networks. The scheme's construction started in the mid-1970s and is put into operation in 1982 predominantly to transport associated gas from the Ghawar Field to support industrialization.
To be implemented in phases, the Master Gas System Expansion Project is vital for Saudi Arabia to support the development of its non-associated gas, unconventional gas, and related condensate reserves. The Master Gas System Booster Gas Compression Station Project will expand the capacity of the East-West Pipeline System to deliver gas around the Kingdom.