POWERCHINA organized a donation ceremony for the Al-Mustafa Orphanage in Pakistan on Dec 31, with the company giving school supplies, sportswear, shoes and daily necessities such as rice, among other things.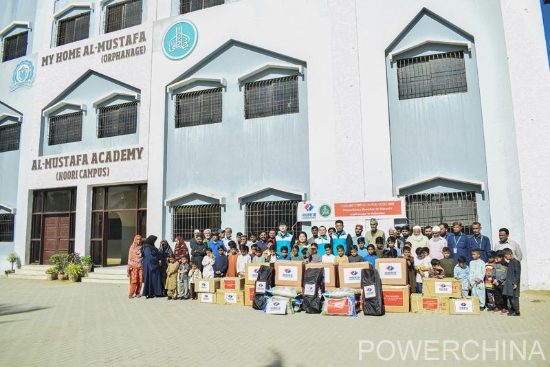 POWERCHINA representatives get together with the kids at the Al-Mustafa Orphanage in Pakistan.
At the ceremony, POWERCHINA representatives expressed the hope that the donation will boost the living and learning environment of the kids, and provide substantial help for the orphanage.
They also hoped that the friendship between China and Pakistan will remain deep and lasting.
The director of the orphanage said that POWERCHINA's compassion has touched all the staff members deeply and hoped that POWERCHINA's ventures in Pakistan will continue to flourish.
Since 2018, POWERCHINA has carried out four donations of learning and living materials and other voluntary activities for the orphanage. The electricity currently used by the orphanage comes from rooftop solar power panels donated by POWERCHINA.
POWERCHINA has been actively fulfilling its social responsibilities in Pakistan, including giving donations for flood disasters, building schools, organizing volunteer activities and providing jobs and skill training opportunities for local employees.