POWERCHINA donated teaching supplies to the School of Robotics, located in Misiones Province in northeastern Argentina, on Jan 11.
Established in 2018, it is the first public robotics school in Argentina and tens of thousands of students have registered with it since then, but a current shortage of teaching supplies is said to be seriously affecting its teaching efficiency.
After learning of the situation, POWERCHINA donated electronic components, sensors and other teaching supplies to the school to help with its educational work.
POWERCHINA donates teaching supplies to the robotics school in Misiones Province in Argentina on Jan 11.
At a donation ceremony, Misiones Provincial Government expressed its gratitude to POWERCHINA for its generosity and praised it as an enterprise with a high sense of social responsibility, and said that the school will make full use of the teaching supplies to train and educate more local science and technology talent.
Oscar Herrera Ahuad, governor of Misiones Province, praised POWERCHINA's contribution to Argentina's economic and social development through engineering contracting projects, and hoped that the province will continue to expand cooperation with POWERCHINA in energy, infrastructure and in other fields.
The Misiones Provincial Government also sent a letter of thanks to POWERCHINA after the donation ceremony.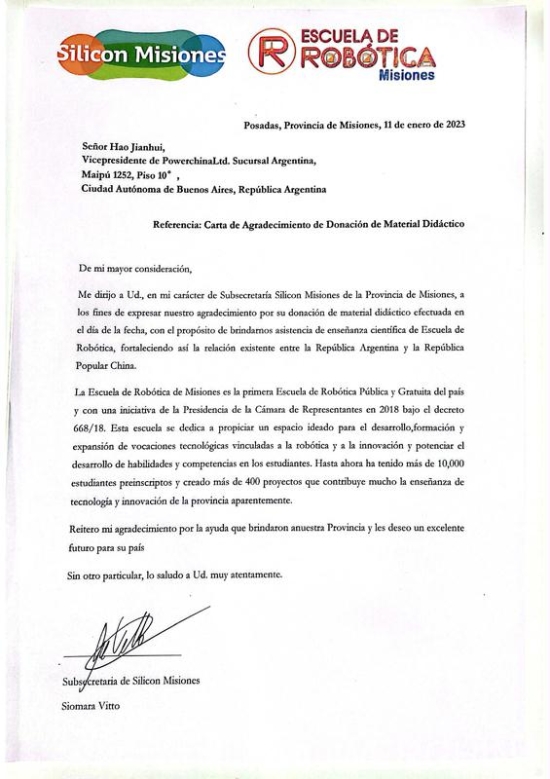 The letter of thanks given by Misiones Provincial Government to POWERCHINA.
POWERCHINA entered the Argentine market in 2011 and has signed more than 30 projects worth $5 billion, including the San Javier Demonstration Photovoltaic Project with Misiones Provincial Government in September 2022.
While actively exploring the market, POWERCHINA has fulfilled its social responsibilities. In 2019, it gave a donation to a blind boy in Tierra del Fuego to go to China for treatment. From 2020 to 2022, it also donated a large amount of anti-epidemic medical supplies to various provinces and ministries in Argentina.