POWERCHINA's Bhote Koshi Hydropower Station project received a letter of thanks from the local police stationon Jan 31, for its invaluable assistance in putting out a local forest fire in Nepal.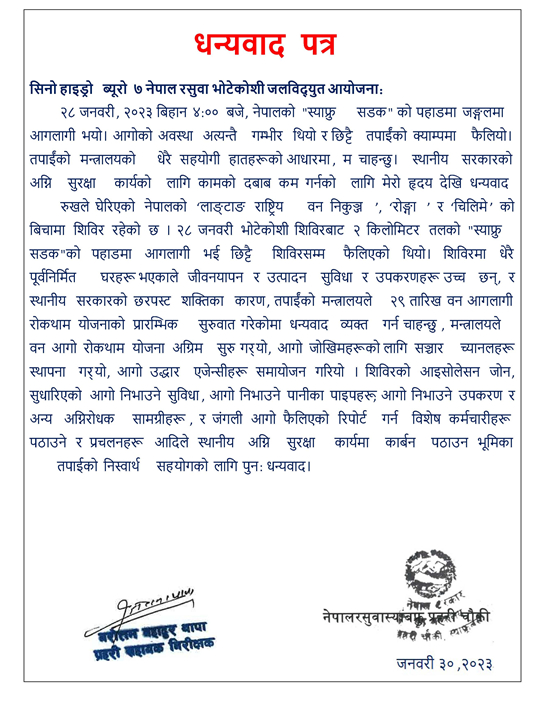 A letter of thanks to POWERCHINA for its role in extinguishing a forest fire.
The Bhote Koshi Hydropower Station project's camp is built on the back of the mountain, located in the hinterland of the Langtang National Forest Park in Nepal.
At 5 am on Jan 28, night shift personnel at the project spotted a forest fire 2 kilometers downstream of the camp and immediately notified the local fire department and reported it to the project emergency leadership office.
The office then analyzed and predicted the wind direction and topography of the incident site, and immediately launched its forest fire emergency plan. It dispatched on-site personnel to form a rescue team and arranged backhoes and fire-fighting equipment to assist local firefighting.
After 15 hours of continuous firefighting, the source of the conflagration in and around the project camp was successfully cut off, the spread was controlled and the fire was finally extinguished.
The letter of thanks said that the forest fire was extremely serious, but thanks to POWERCHINA's early detection and reporting to the local authorities, the threat was eliminated.
POWERCHINA established fire barriers, invested manpower and material resources to cooperate with the local government's voluntary rescue group and it notified nearby villagers of emergency avoidance methods, the letter said.
Moreover, it said that a series of effective measures by POWERCHINA played a timely and successful role in the rapid and successful tackling of the forest fire and prevented all parties from suffering heavy losses, which was the epitome of good-neighborly friendship between China and Nepal.
The BhoteKoshi Hydropower Station is located on the right bank of the Bhote Koshi River in the Central Development Region of Nepal, about 140 kilometers northwest of Kathmandu, the capital.
The station is equipped with three mixed-flow generator units with a total installed capacity of 120 megawatts. It is understood that to date, all the construction tasks being undertaken by POWERCHINA are progressing in an orderly manner.