A new water desalination plant built by POWERCHINA in Joao Camara, Rio Grande do Norte in Brazil was handed over and started operating on Feb 16.
More than 100 people attended the handover ceremony, including Zhu Qingqiao, Chinese ambassador to Brazil.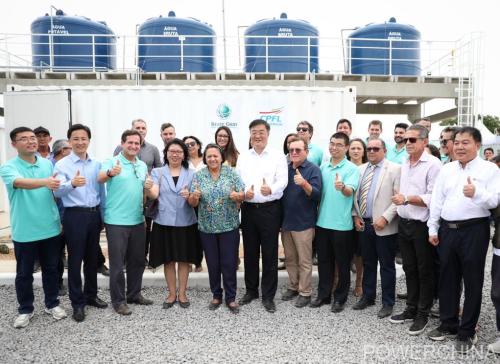 The water desalination plant in Brazil gets the thumbs-up at the handover ceremony.
The plant is a public welfare project undertaken in response to the Belt and Road Initiative, adhering to the concept of energy saving, environmental protection, innovation and smart integration.
Using China's own products and advanced technology, it can provide more than 75 metric tons a day of pure drinking water that meets international sanitary standards, benefiting more than 3,000 locals, and it has won high praise from residents.
Zhu Qingqiao said that the plant is a vivid example of the vast number of Chinese-funded enterprises in Brazil participating in public welfare undertakings and serving local communities.
He said it is also the latest achievement in improving the quality and upgrading of China-Brazil cooperation and benefiting people's livelihoods.
Rio Grande do Norte has attached great importance to deepening links with China.
It is looking forward to further developing bilateral cooperation in agriculture, clean energy, infrastructure, the low-carbon economy and other fields and has invited more Chinese-funded enterprises to invest in the local area.