Emomali Rahmon (first from right), president of Tajikistan, witnesses the unveiling of the Dangara district school.
An opening ceremony for the Dangara district school, the last of three schools aided by POWERCHINA, was held on April 26, with Emomali Rahmon, president of Tajikistan, and other senior officials attending.
At the ceremony, the president highly praised POWERCHINA for its nearly 20-year contributions to the country's charity projects and recognized the three schools' quality.
An aerial view of the main building of the school.
As the biggest of the three schools, the Dangara district school covers an area of 16,000 square meters, the main buildings of which consist of a three-storey school building, a two-storey annex building (canteen and auditorium) and an indoor stadium.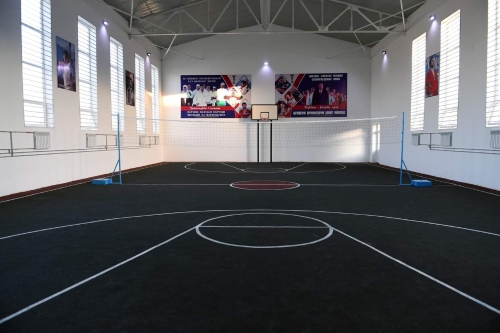 The interior view of the school's indoor stadium.
Equipped with supporting facilities such as fire alarms, ventilation and heating, monitoring and communication systems, the three schools were all designed and constructed in strict accordance with the standards set by the Ministry of Education of Tajikistan, two of which went into use in October 2021, providing learning opportunities for 1,280 children.
In the last 20 years, POWERCHINA has undertaken various projects related to transportation, energy and housing construction, supported by the local government and community in Tajikistan. Moving forwards, the company will continue to participate in local charity work to fulfill its social responsibilities.