Undertaken by POWERCHINA, the project named King Salman international complex for maritime industries and services was officially started in 2019. The project is located in the Eastern province of Saudi Arabia, near the coast of the Persian Gulf and close to India, Egypt, Bangladesh and Pakistan.
The project has created substantial employment opportunities for the local area and attracted a large number of foreign employees to realize their self-fulfillment in the construction of the Belt and Road Initiative.
Here are the stories of Osim Molla and Sohag, foreign employees of POWERCHINA from Bangladesh.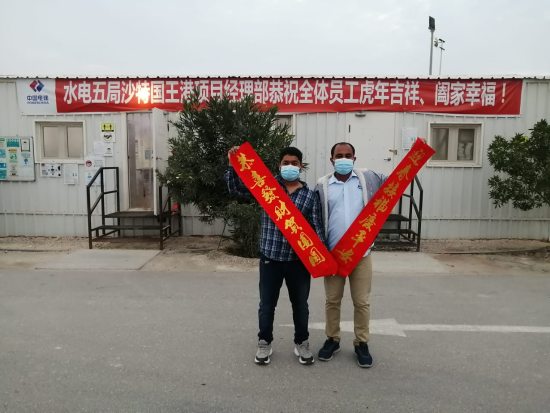 Molla (left) and Sohag.
Warmhearted Molla: I treat everyone as my friend
Osim Molla has been working as a trolley driver for a year in the project. At the age of 28, he has mastered superb driving skills. Driving a white SUV carrying builders from the construction site every day to the campsite or the urban area of Riyadh is Molla's routine.
Since Molla joined the project department in December 2019, he has always brought warmth to his colleagues. When the COVID-19 epidemic broke out in 2020, Molla voluntarily participated in the prevention efforts. Every night, he accompanied the patrol personnel to check foreign employees' temperatures at 7 o'clock on time. Whether on business trips or working overtime, Molla is always on call anytime, anywhere. Even after 11 pm, he will immediately go to the site and send them home as long as receiving his colleagues' call.
"The project gave me the opportunity to develop my working skills. I regard each of my colleagues as my friend. I understood the meaning of satisfaction and gratitude," Molla said.
Sohag: A great coordinator in the Persian Gulf
The disposal of waste and used materials is a top priority for projects in Saudi Africa. The recycling and disposal of all materials must be handled strictly in accordance with relevant regulations and the import and export policies. Therefore, coordination and transportation are indispensable working processes on the construction site.
Sohag is an enthusiastic, humorous and responsible employee. Whenever the waste materials are transferred, Sohag, as the on-site trolley driver, travels between the campsite and the construction site. During the process of weighing and billing the materials at the mixing station, he helps solve many problems such as entry and exit and other procedures with his excellent communication skills.
Recording memories with actions
From their home country Bangladesh to Saudi Arabia, from the Chinese company to the King Salman international complex project, Molla and Sohag witnessed the development project from the planning to the construction of buildings. The time spent every day at the construction site has imprinted in their hearts. Whether they are engaged in logistics or the construction front, the land under their feet has witnessed their contribution to the project construction.