Bangladesh's first metro rail in the capital of Dhaka, known as the Mass Rapid Transit Line-6 (MRT 6), officially opened on Dec 28, with Prime Minister Sheikh Hasina attending the ribbon-cutting ceremony and taking a train afterwards.
It marked Bangladesh's entry into the era of electrified rail transit, which is seen as being a watershed moment for the nation.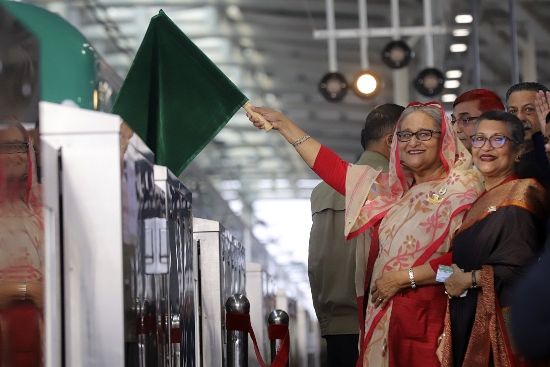 Bangladesh Prime Minister Sheikh Hasina takes the MRT-6, the country's first metro rail.
The MRT-6, a total length of about 20 kilometers, is the first urban rail transit project developed in Bangladesh to improve the traffic conditions and urban environment of the capital.
POWERCHINA and Italian-Thai Development Public Company Limited (ITD) formed a joint venture and were responsible for construction of the CP02 section of the MRT-6.
The CP02 section is responsible for train parking, daily maintenance, train inspections and weekly and monthly inspections of the MRT-6.
In addition to the running track area and on-site support facilities, the CP02 section includes many buildings, such as administrative operation centers and training centers.
It also includes train maintenance sheds, equipment maintenance centers, sewage treatment plants and hybrid substations.
Since its construction started, POWERCHINA has overcome a large number of design changes and unfavorable factors brought about by the COVID-19 pandemic, to complete work on the section in January.