Cambodian commercial broadcast network Bayon Television (BTV) recently reported on the construction of the Pursat River Hydropower Station undertaken by POWERCHINA.
According to the news report, the station is located in Pursat province in Cambodia and will have a total installed capacity of 80MW. As such, it is expected to play a comprehensive role in power generation, flood control and environmental improvement.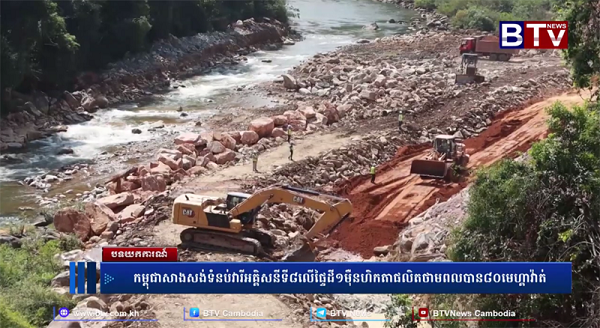 A scene from the BTV report on the Pursat River Hydropower Station.
In addition, the station will have a big water storage capacity, enabling it to supply a large amount of power to local communities in the dry season, making it of great significance to national economic development and the improvement of people's daily lives. On completion, it is also expected to become a new tourist attraction in Pursat province.
Plans are for the construction to be finished by the end of 2026, and it will provide Cambodia with 369 million kWh of clean electricity every year.
SuySem, Cambodia's minister of mines and energy, visited the construction site on Nov 19 last year and praised POWERCHINA's contribution to Cambodia's power development.
The minister urged POWERCHINA to make every effort to complete the construction of the station as soon as possible, so as to inject new momentum into Cambodia's economic development.