Bounsthong Chitmany, vice president of Laos, visited the 600 MW Monsoon wind power project on Feb 6 that is being built by POWERCHINA.
The vice president said that this is the first wind power project in Laos, and when completed, it will help promote local economic development.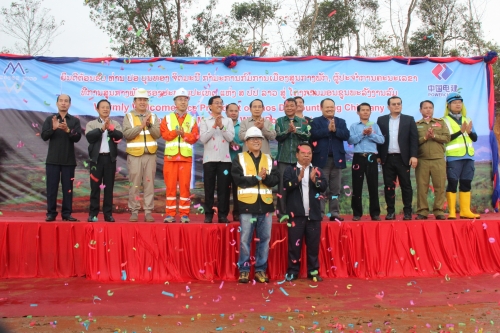 Bounsthong Chitmany (right, front row), vice president of Laos , visits the 600 MW Monsoon wind power project.
He called on the project to be completed as soon as possible and that during construction the project will hire locals and do a good job in land use and in improving people's lives.
Local government departments at all levels are required to support and cooperate with the work, the vice president added.
The project is located in Sekong and Attapeu provinces in southern Laos. It is the largest wind power project undertaken by POWERCHINA overseas.
POWERCHINA workers pose for a group photo.
The main construction work of the project includes a 600 MW wind farm, five booster stations and 500 kV transmission lines.
On completion, it will mainly transmit electricity to Vietnam. It is estimated that 35 million metric tons of carbon emissions will be reduced.
This will be the first time that Laos will have realized the cross-border transmission of new energy electricity.It is expected to effectively alleviate the power shortage in central Vietnam and help Laos build on its vision of becoming a "Southeast Asia battery".