Ten journalists and bloggers from the Pakistani media on Feb 3 visited the Port Qasim Coal-Fired Power Plant built by POWERCHINA.
The visit coincided with the occasion of the 10th anniversary of the Belt and Road Initiative and the 10th anniversary of the launch of the China-Pakistan Economic Corridor.
On the day, keywords, such as the China-Pakistan Economic Corridor and the Qasim Power Plant, ranked second and fourth on the Twitter hot search list, respectively.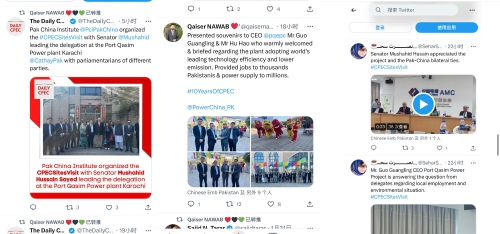 Journalists write about their excitement on Twitter during the visit to the power station.
The journalists learned about POWERCHINA's advanced experience in localized management and personnel training.
They described the plant in such glowing terms as "excellent" and "perfect".
After viewing a promotional video, the media members said it shows the construction process in a detailed and balanced way, which is very important to the economic development of Pakistan. The local journalists also lauded POWERCHINA for helping their country.
The first-rate environmental protection technology adopted by the power plant and the transplantation of mangroves to protect the ecosystem reflect POWERCHINA's social responsibility, a journalist said.
The Port Qasim Coal-Fired Power Plant is the No 1 project in the China-Pakistan Economic Corridor. During its construction, POWERCHINA provided a large number of employment opportunities, boosted the training of locals, shared advanced technologies to support infrastructure construction and assisted with medical treatment and education, as well as helped the poor.
The power plant has successively won such accolades as the Outstanding Achievement Award from the Pakistan government, Outstanding Energy contribution Award from Pakistan Foreign Affairs Committee, Environmental Excellence Award from the Pakistan National Forum of Environmental & Health, and the Public Diplomacy Award conferred by the Chinese Embassy in Pakistan.