Cambodian Prime Minister Hun Sen visited the Pursat River No 1 Hydropower Station on March 14, being built by POWERCHINA under an EPC contract.
He said it is an important hydropower station for Cambodia, which will provide the country with safe, stable and clean energy and will also ensure the independence and security of Cambodia's electricity, improve people's livelihoods and accelerate national economic development.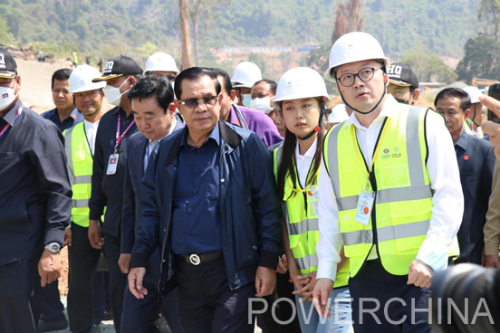 Cambodian Prime Minister Hun Sen (third from right) visits the Pursat River No 1 Hydropower Station.
He also expressed his gratitude to POWERCHINA's strong support for Cambodia's power construction and expressed his appreciation to the construction workers.
The Pursat River No 1 Hydropower Station is located in the upper reaches of the Pursat River in Cambodia. It is the first cascade power station in the overall construction plan for the river basin. The station is 270 kilometers away from the country's capital Phnom Penh and has an installed capacity of 80 MW.
On completion, it will provide Cambodia with 369 million kWh of clean electricity every year.
It is projected to improve the flood control of the Pursat River and improve irrigation conditions in the basin area and also expected to drive the development of shipping, tourism, fishery and agriculture in the region, creating more than 2,000 jobs.
Since entering the Cambodian market in 2006, POWERCHINA has successively signed about 130 projects, with a contract value of more than $5 billion.
It has participated in power construction in the country with a total installed capacity of 846 MW, accounting for more than 30 percent of Cambodia's national installed power capacity.