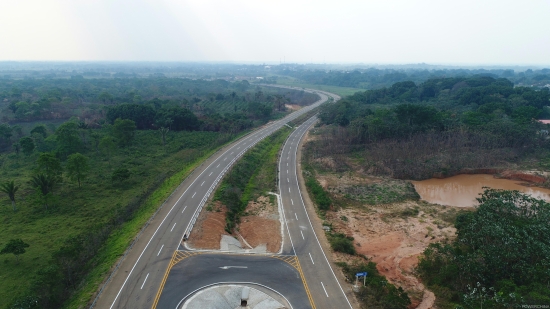 An aerial view of the Montero-Yapacani highway project in Santa Cruz, Bolivia.
POWERCHINA completed the final handover of the Montero-Yapacani highway project in Bolivia on March 28. The project's supervision department issued a project performance certificate to the contractor on that same day.
The Montero-Yapacani highway project, located in Santa Cruz, is a part of the expansion of Bolivia's National Highway 4. The contracted section of the highway is 69.7 kilometers long, and reaches from west of Montero to the Yapacani Bridge.
The main work of the project included the expansion of the originaltwo lanes to four lanes, alleviating the stress of local traffic and improving road conditions.
Since the start of the project, POWERCHINA has created steady jobs for local residents, which has greatly driven the local economy as well.
POWERCHINA was affirmed by the local government and community for its efforts to strengthen the quality of the project and ensureits progress.
The completion of the project was of great importance for POWERCHINA to extend its market share in Bolivia's infrastructure sector, further build its enterprise image, and power ahead with economic development.
Since POWERCHINA entered Bolivia's market, the company has completed six projects. Several other projects in Bolivia, worth about $1 billion, are still currently under construction and involve local hydropower stations, highways and water supply facilities.