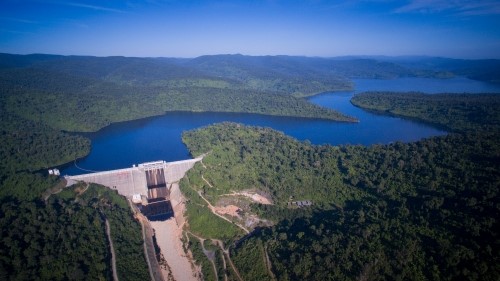 An aerial view of the Kamchay Hydropower Station.
Since July 17, all eight generators of Cambodia's Kamchay Hydropower Station have been turned on and begun full-load grid-connected power generation operation. On July 18, the power station generated more than 4.35 million kWh of power, and the load ratio reached 100 percent, a new high for single-day power generation this year.
To date, the Kamchay Hydropower Station has been operating safely for more than 4,200 days, and its cumulative total power generation has exceeded 4.9 billion kWh.
Impacted by the El Niño climate phenomenon in the first half of this year, the water inflow of the hydropower station decreased by about 41.6 percent, compared to the same period last year. This led to an adverse effect on power generation.
However, due to the dual influence of the Southwest monsoon in the Southeast Asian region and Typhoon "Talim," the station has witnessed concentrated and heavy rainfall recently, effectively replenishing the reservoir capacity. As a result, a new record for single-day power generation this year was set.
Over the years, the Kamchay Hydropower Station has made significant contributions to ensuring the country's stable power supply and has been praised by the country's prime minister Hun Sen as Cambodia's "Three Gorges Project."
In addition, the hydropower station has played a vital role in mitigating downstream urban seasonal flood disasters, providing water for downstream farmland irrigation and addressing residents' water supply issues.