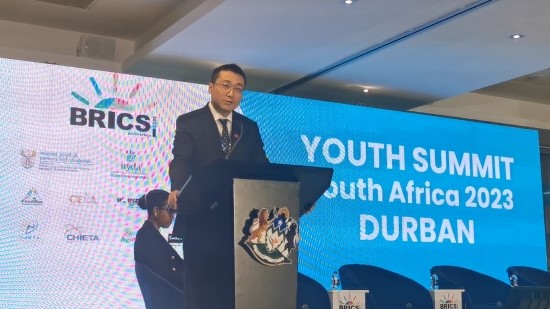 Cao Fengze makes a speech at the 9th BRICS Youth Summit.
The 9th BRICS Youth Summit was held in Durban, South Africa during July 17-21. A delegation of eight Chinese youth representatives, organized by the All-China Youth Federation, participated in the meeting, including Cao Fengze, an employee of POWERCHINA.
This year's BRICS Youth Summit, entitled "BRICS and Africa: Partnership for Mutually Accelerated Growth, Sustainable Development and Inclusive Multilateralism", was attended by more than 200 youth representatives from China, South Africa, Brazil, Russia, and India.
During the event, Cao made a speech titled "Developing a Just Energy Transition Partnership". In his ten-minute presentation, he shared his personal experience working on a hydroelectric power station construction in southern Africa. He vividly introduced the story of Chinese companies engaging in energy development in Africa, assuming corporate responsibility, and assisting countries involved in the Belt and Road Initiative (BRI) to achieve prosperity under the guidance of the BRI.
The speech was well-received, and representatives from various countries asked questions. Cao addressed the concerns of the attending representatives with thoughtful responses, drawing on his professional expertise.
After the meeting, Cao proposed the idea of developing a precise energy transition timetable, stating that such a timetable should be cautiously formulated based on the outcomes of multilateral discussions. It should take into account fiscal health and risk mitigation, ensuring the safety and sustainability of the energy transition process. This proposal was included in the declaration of the 9th BRICS Youth Summit.