The 31st summer edition of the FISU World University Games will kick off in Chengdu, capital of Southwest China's Sichuan province, on July 28. POWERCHINA is playing a crucial role in the preparation work for the games, especially in terms of infrastructure.
At the end of 2018, when Chengdu won the bid to host the 31st World University Games, POWERCHINA's design team began planning the future landscape of Dong'an Lake Park (World University Games Park).
The entire lake area covers 5,061 mu (337.4 hectares), with a water surface area of 1,634 mu, and is divided into three zones based on different terrain conditions: "Ecological Wetland Tour Zone," "Ecological Lakeside Vitality Zone," and "Ecological Sports and Leisure Zone."
Adjacent to Dong'an Lake Park, the main torch tower, designed by POWERCHINA, stands 31 meters tall, symbolizing the 31st World University Summer Games. The design incorporates cultural elements from the Jinsha Site, featuring the "Sun Bird" and "Sunlight Igniting Fire" motifs.
Another significant contribution is the College of China & ASEAN Arts. Constructed by POWERCHINA, the college covers an area of approximately 175,000 square meters, with a total construction area of 189,130 square meters, and includes an art center, teaching buildings, administrative buildings, a sports hall, student canteens, and dormitories.
As an essential part of the 31st World University Games Village, the college provides basic life support for nearly 3,000 athletes and meets the leisure, entertainment, communication, performance, and shopping needs of nearly 10,000 delegation members.
What's more, at the college, athletes can also experience traditional Chinese cultural activities, such as Hanfu (traditional clothing), bamboo weaving, pot throwing, and drumming, and traditional Chinese skills like tie-dyeing, shadow puppetry, Sichuan embroidery, calligraphy, traditional painting, and Peking opera masks.
In terms of transportation, the Chengdu Metro Line 18, also constructed and operated by POWERCHINA, is one of the primary means of passenger transportation for the Universiade.
The line, with a maximum operating speed of 140 kilometers per hour, enables travelers departing from Tianfu International Airport to reach Chengdu South Railway Station in just 37 minutes.
Additionally, numerous volunteers from POWERCHINA are providing services to visitors from around the world, making valuable contributions to the Universiade.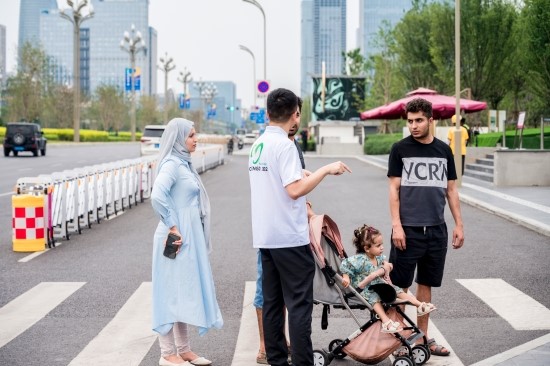 Volunteers help foreign visitors.
View of the 31st World University Games Village.