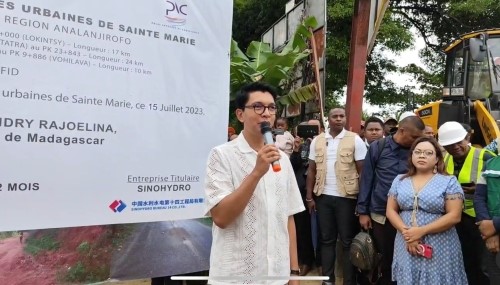 Andry Nirina Rajoelina, president of Madagascar, delivers a speech during the ceremony.
A groundbreaking ceremony for restoring the municipal road in Sainte Marie Island, undertaken by POWERCHINA, recently took place in Madagascar. Andry Nirina Rajoelina, president of Madagascar, attended the event and presided over the project's inauguration.
Andry Rajoelina said in his speech at the ceremony that Sainte Marie Island is one of the country's most popular tourist spots. The project will greatly improve the island's transportation conditions, attract more visitors, promote local tourism development, and create nearly 1,000 jobs.
The project will also stimulate the development of the construction materials industry and maritime transport between Sainte Marie Island and the mainland, benefiting local people.
The road serves as a major transportation route on Sainte Marie Island. POWERCHINA is responsible for the establishment of new drainage structures for the three main roads on the Island (RNS21, the main ring road, and the secondary ring road), roadbed and pavement restoration, and installation of traffic signage. The project encompasses a total of 17 kilometers of asphalt concrete roads and 33 kilometers of gravel roads.
The project is expected to be completed within 12 months.