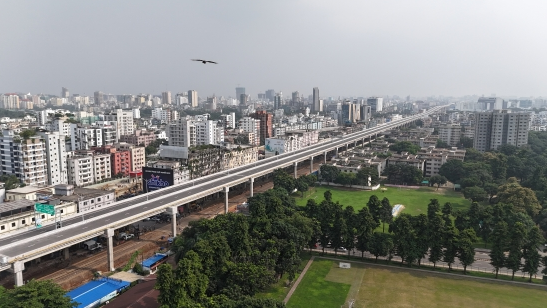 An aerial view of the Dhaka-Ashulia Elevated Expressway (Phase One).
On Sept 2, a ceremony was held for the partial opening of the Dhaka-Ashulia Elevated Expressway (Phase One), built by POWERCHINA in Bangladesh. It was attended by the prime minister of Bangladesh, Sheikh Hasina.
She said in her speech that the opening of the Dhaka-Ashulia Elevated Expressway (Phase One) marks a new milestone in the development of transportation in Bangladesh and will play a significant role in reducing traffic congestion.
The expressway connects Hazrat Shahjalal International Airport with the country's largest port, Chittagong Port, which is expected to greatly strengthen maritime and air transport in Bangladesh by reducing travel time from 2 hours to just 20 minutes. The expressway is also expected to greatly alleviate the current traffic congestion in the capital, Dhaka.
The mainline of the project has a total length of 19.73 kilometers and a designed speed of 80 kilometers per hour. The section that just opened for traffic covers a mainline length of 11.30 kilometers, and the entire route is designed as an elevated expressway.
Throughout the entire construction period, the project has created over 10,000 jobs for the local population. In terms of equipment and materials procurement in an EPC way and subcontracting, over 80 percent was sourced locally, significantly contributing to the improvement of local socio-economic development.
POWERCHINA has been deeply involved in the Bangladesh market since the 1990s and has built several significant projects, including the Dasherkandi Sewage Treatment Plant –Bangladesh's first modern large-scale sewage treatment plant, the Padma River Channel Improvement Project, and Bangladesh's first large-scale centralized wind farm and the first new energy project, and the Cox's Bazar Wind Farm, making the company an important player in the country's infrastructure development sector.